IMPORTANT! To order from Pay Pal--my e-mail is NorCalGreg@Usa.Com. You don't need a Pay Pal acct--just give them my EXACT email address. There is no Tax or shipping if you prefer instant digital deliver. CD's are $5.00 for shipping (exactly what it costs me)
Thank you for your interest-- Greg Banner NorCalGreg 1 510 203-8274 office: NorCalGreg@Pace-View.Net
---
PLATINUM DIRECTIONS
The program is very easy to use. Once you have it installed, you will need a Brisnet.com acct to purchase the single-file data for the track you wish to handicap. What ever files you download from Bris--put them in the same folder as the PLATINUM program. You have 3 downloads, so put another copy of the program in your bottom tray,and pin it to the taskbar. This makes accessing the program as easy as possible.
Click "Load a File" and double-click on the data file you want to see. All the columns are sortable--1st to last.
POWER=MY OWN POWER # FOR THAT HORSE
-E-1, E-2,LATE are the pace figs for the LAST RACE.
pp1 and pp-2 are the horse's 1st call position and lengths behind from last race--and the race before that. You'll find most winners are within 4.5 lengths @ 1st call--one of last two (or both)
-T/J% is the Trainer and jockey's win %.
-DAYS = days since last race
-S+Q are the Quirin running style and early speed numbers
-SPD = best of last-2 speed rating
-PRIME= Bris Prime Power
-CLASS= Purse Value...if the Purse value was lower last race-you'll see a "-" if the Purse Value last race was higher, you'll see a "+". This means he's either going up in class, or dropping in class. If there is no notation--the horse is not going up or down in class today.
-T BLAST= my own rating for turf races--the higher the number, the better the horse has performed on Turf in the past.
-S BLAST= my own proprietary rating for early speed.
-E POWER= Early power -L POWER=LATE POWER
-ITM%= percentage the horse finishes IN THE MONEY
-LR FIN= Last race finish
-L3 SPEED=total Bris Speed ratings for last 3 races.
-% EPS= Earnings per Start as a percentage of today's purse.
-ABILITY= My own rating mainly for higher-class horses and stakes.
Once you have a race open--double-click on any horse to get the horse's past-performances on your screen
-ALL BUTTON will show all horses running today--you can then sort and find the horse today with the top Power Numbers, Ability, etc
-2.5L BUTTON shows on the screen ALL horses that have shown early speed ability--good for testing spot plays, etc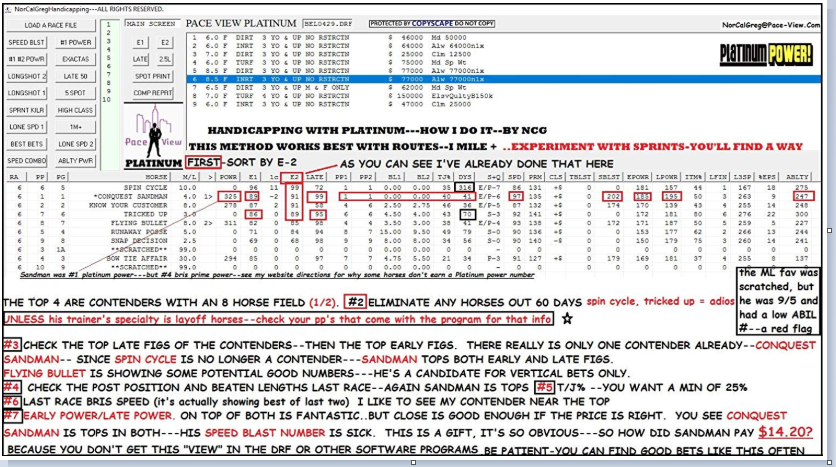 ** HOW TO SCRATCH A HORSE (SAME METHOD FOR ALL PROGRAMS)FOR EXAMPLE, IN THIS RACE-IF YOU WANTED TO SCRATCH "EZRA"...HIS POST POSITION IS #11 --GO UP TO THE GREEN BOX AND DOUBLE-CLICK THE # 11, AND EZRA IS GONE. UNFORTUNATELY...IF YOU MISTAKENLY SCRATCH THE WRONG HORSE, YOU'LL HAVE TO RELOAD THE CARD AND START AGAIN. AFTER A COUPLE DAYS--YOU'LL VERY CAREFULLY SCRATCH YOUR HORSES, AND WON'T HAVE TO "RELOAD" THE CARD.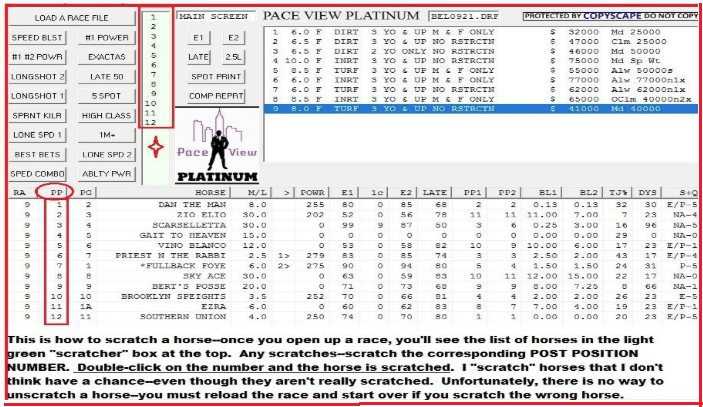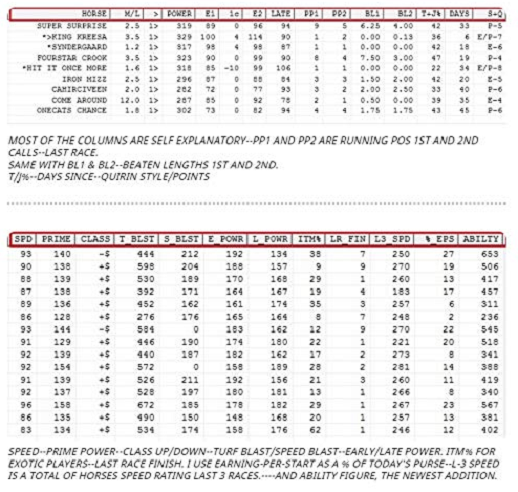 Keep in mind I define "class" by purse value. "earnings per start" is earning as a percentage of today's purse--more accurate. T-BLAST= TURF RATING--S-BLAST=EARLY SPEED--L POWER=LATE POWER-E-POWER IS A GENERAL OVERALL SPEED FIGURE.
ABILITY=A UNIQUE CLASS RATING--SPD RATING=BEST OF LAST-2 BRIS SPEED--PRIME=BRIS PRIME POWER--2.5L ARE HORSES THAT SHOWED EARLY SPEED MIN. 1 OF LAST 2. POWER RATING IS EARLY SPEED, CONNECTIONS, RECENCY, AND TRAINER/JOCKEY WIN %. HORSES WITH NO POWER NUMBER-- IS USUALLY BECAUSE OF NO RECENCY OR NO EARLY SPEED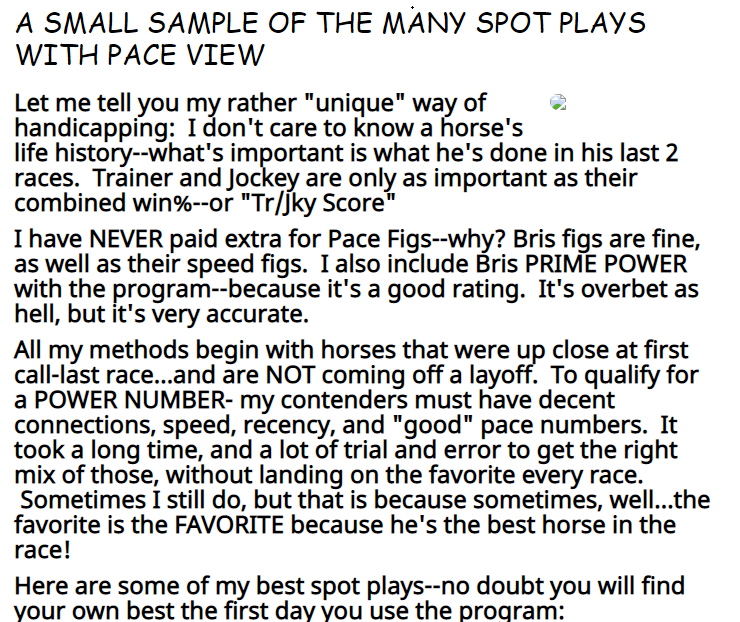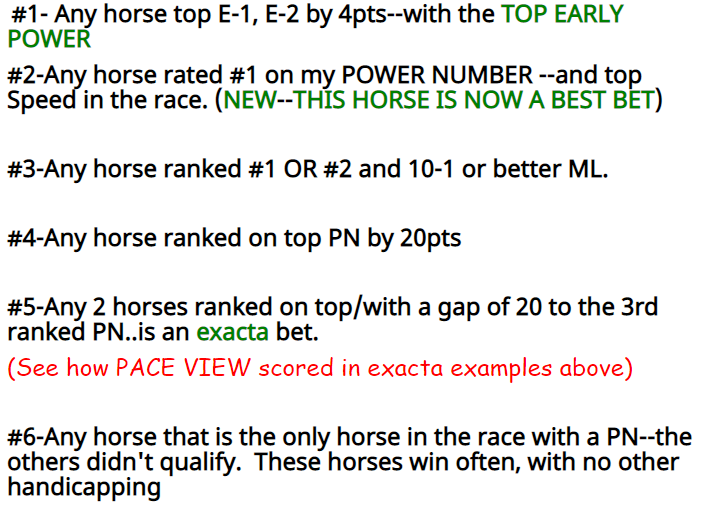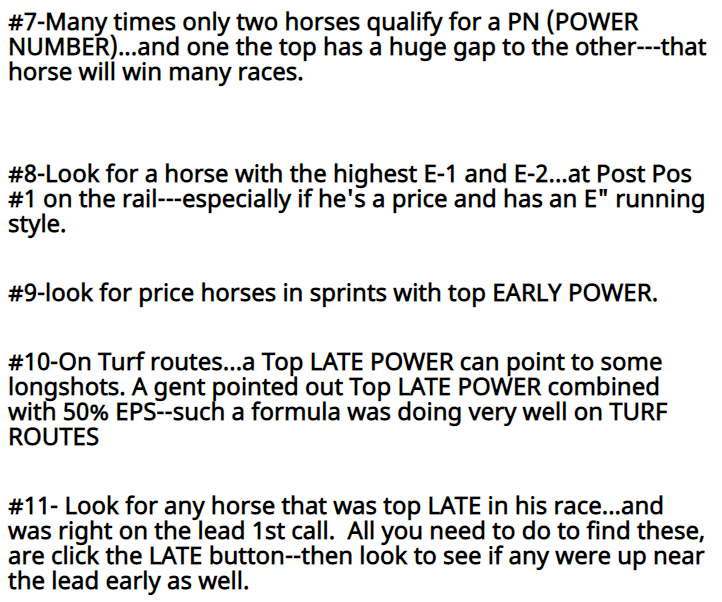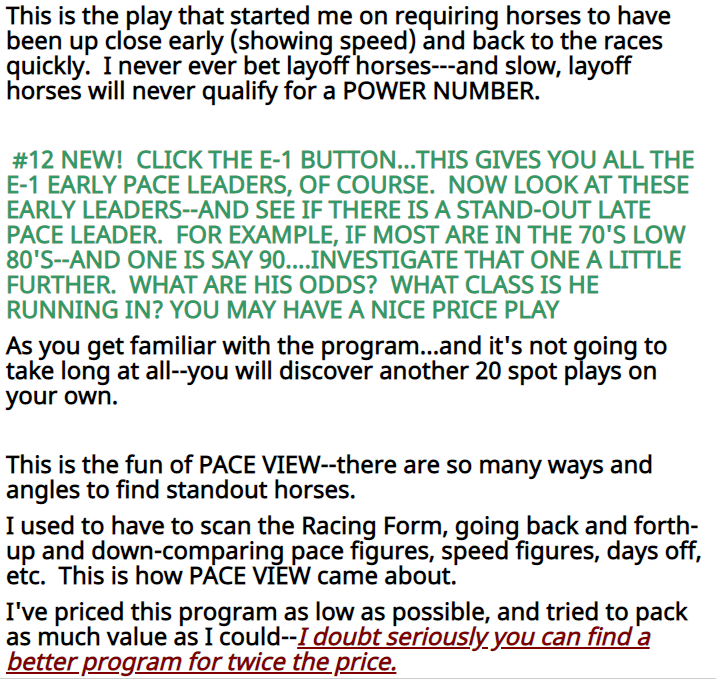 THERE ARE NO EXTRA INSTRUCTIONS NECESSARY FOR BEST-FIVE OR PONYPICKER...AS THERE IS NO HANDICAPPING INVOLVED.
EXOTIC BETS! PROGRAM WILL HAVE MORE INSTRUCTIONS -- IN ADDITION TO WHAT'S ALREADY IN THE SALES AREA.
*please read our terms--believe it or not--some folks download our programs, and once it's on their computer they immediately demand a refund. For this reason only, we had to stop offering refunds. I have given free upgrades, replaced lost programs free of charge (usually due to computer crashes)--and generally tried to be as helpful and friendly as possible. I sincerely hope you understand this...any problems at all--call me and we'll surely work it out. --Thank you so much-
-Greg Banner aka NORCALGREG - PACE-VIEW HANDICAPPING