IMPORTANT! To order from Pay Pal--my e-mail is NorCalGreg@Usa.Com. You don't need a Pay Pal acct--just give them my EXACT email address. There is no Tax or shipping if you prefer instant digital deliver. SORRY WE NO LONGER SHIP VIA CD'S...YOUR PROGRAM IS SENT VIA LINK TO YOUR EMAIL ADDRESS--NO TAX OR SHIPPING COSTS.
Thank you for your interest-- Greg Banner NorCalGreg 1 510 203-8274 office: NorCalGreg@Pace-View.Net
PLATINUM DIRECTIONS ******SEE TIP SHEET INSTRUCTIONS BELOW AT BOTTOM
To save to your device - In your browser Right-Click the "filename" link. A menu
will appear, choose "Save link as..." Choose your save destination and file name
I suggest you save your software program and Bris Data Single Files to the same
folder on your computer. You can make a new folder for this purpose.
***NO MORE CD'S ONLY DIGITAL DELIVERY--AND PLEASE WHEN YOU ORDER YOU CAN GET 3 COPIES-I SUGGEST YOU GET ALL 3 AS I CAN SEND NO MORE FREE "REPLACEMENTS". PUT ONE ON YOUR PC-ONE ON YOUR LAPTOP-AND ONE ON USB,ETC. I'M GETTING LOW ON STOCK--I'VE PROBABLY REPLACED 50 OR 60 FREE OF CHARGE. YOU WILL HAVE TO PURCHASE ANOTHER PROGRAM IF YOU ONLY DOWNLOAD ONE AND YOUR COMPUTER CRASHES.


The program is very easy to use. Once you have it installed, you will need a Brisnet.com acct to purchase the single-file data for the track you wish to handicap. What ever files you download from Bris--put them in the same folder as the PLATINUM program. You have 3 downloads, so put another copy of the program in your bottom tray,and pin it to the taskbar. This makes accessing the program as easy as possible.
Click "Load a File" and double-click on the data file you want to see. All the columns are sortable--1st to last.
POWER=MY OWN POWER # FOR THAT HORSE
-E-1, E-2,LATE are the pace figs for the LAST RACE.
pp1 and pp-2 are the horse's 1st call position and lengths behind from last race--and the race before that. You'll find most winners are within 4.5 lengths @ 1st call--one of last two (or both)
-T/J% is the Trainer and jockey's win %.
-DAYS = days since last race
-S+Q are the Quirin running style and early speed numbers
-SPD = best of last-2 speed rating
-PRIME= Bris Prime Power
-CLASS= Purse Value...if the Purse value was lower last race-you'll see a "-" if the Purse Value last race was higher, you'll see a "+". This means he's either going up in class, or dropping in class. If there is no notation--the horse is not going up or down in class today.
-T BLAST= my own rating for turf races--the higher the number, the better the horse has performed on Turf in the past.
-S BLAST= my own proprietary rating for early speed.
-E POWER= Early power -L POWER=LATE POWER
-ITM%= percentage the horse finishes IN THE MONEY
-LR FIN= Last race finish
-L3 SPEED=total Bris Speed ratings for last 3 races.
-% EPS= Earnings per Start as a percentage of today's purse.
-ABILITY= My own rating mainly for higher-class horses and stakes.
Once you have a race open--double-click on any horse to get the horse's past-performances on your screen
-ALL BUTTON will show all horses running today--you can then sort and find the horse today with the top Power Numbers, Ability, etc
-2.5L BUTTON shows on the screen ALL horses that have shown early speed ability--good for testing spot plays, etc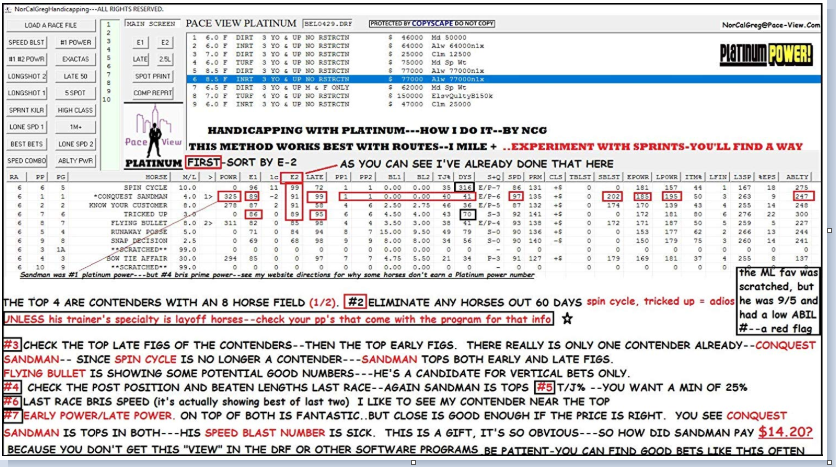 ** HOW TO SCRATCH A HORSE (SAME METHOD FOR ALL PROGRAMS)FOR EXAMPLE, IN THIS RACE-IF YOU WANTED TO SCRATCH "EZRA"...HIS POST POSITION IS #11 --GO UP TO THE GREEN BOX AND DOUBLE-CLICK THE # 11, AND EZRA IS GONE. UNFORTUNATELY...IF YOU MISTAKENLY SCRATCH THE WRONG HORSE, YOU'LL HAVE TO RELOAD THE CARD AND START AGAIN. AFTER A COUPLE DAYS--YOU'LL VERY CAREFULLY SCRATCH YOUR HORSES, AND WON'T HAVE TO "RELOAD" THE CARD.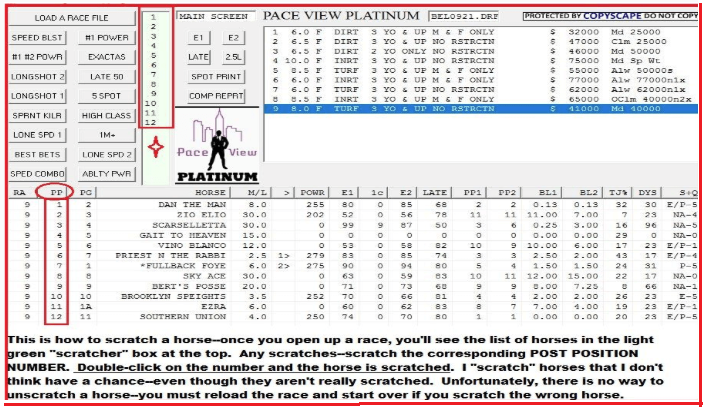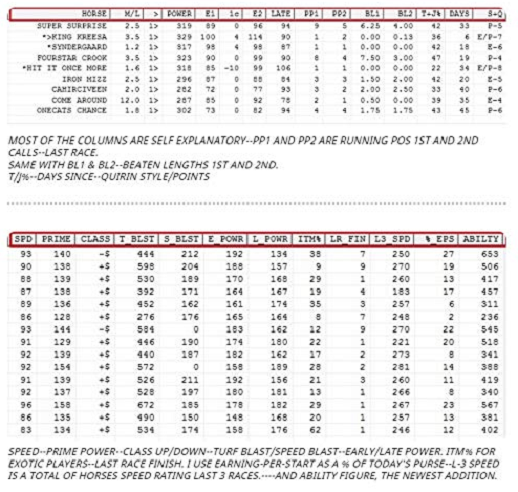 Keep in mind I define "class" by purse value. "earnings per start" is earning as a percentage of today's purse--more accurate. T-BLAST= TURF RATING--S-BLAST=EARLY SPEED--L POWER=LATE POWER-E-POWER IS A GENERAL OVERALL SPEED FIGURE.
ABILITY=A UNIQUE CLASS RATING--SPD RATING=BEST OF LAST-2 BRIS SPEED--PRIME=BRIS PRIME POWER--2.5L ARE HORSES THAT SHOWED EARLY SPEED MIN. 1 OF LAST 2. POWER RATING IS EARLY SPEED, CONNECTIONS, RECENCY, AND TRAINER/JOCKEY WIN %. HORSES WITH NO POWER NUMBER-- IS USUALLY BECAUSE OF NO RECENCY OR NO EARLY SPEED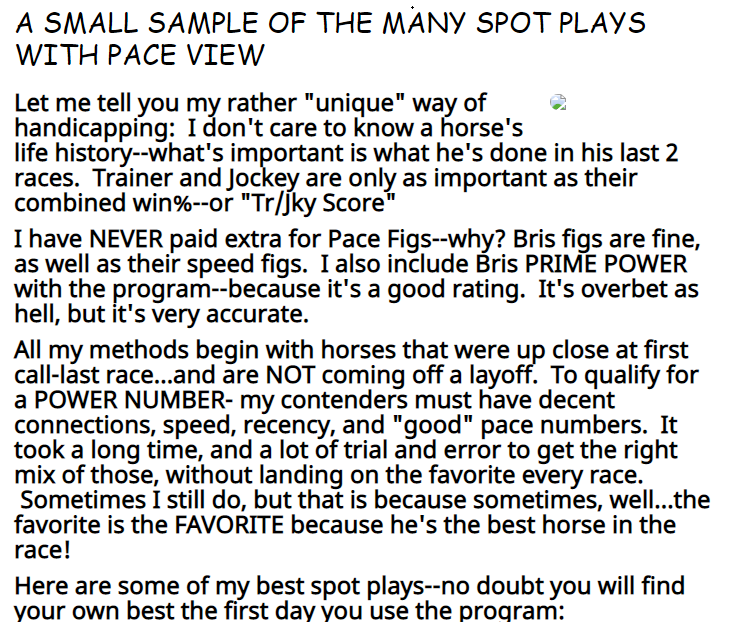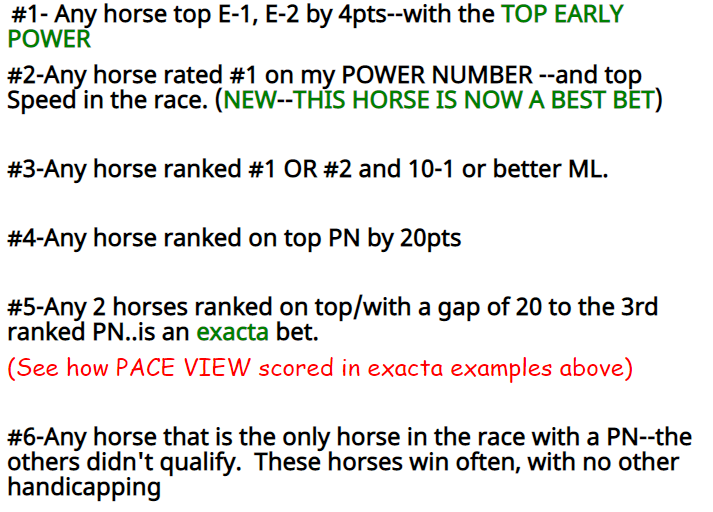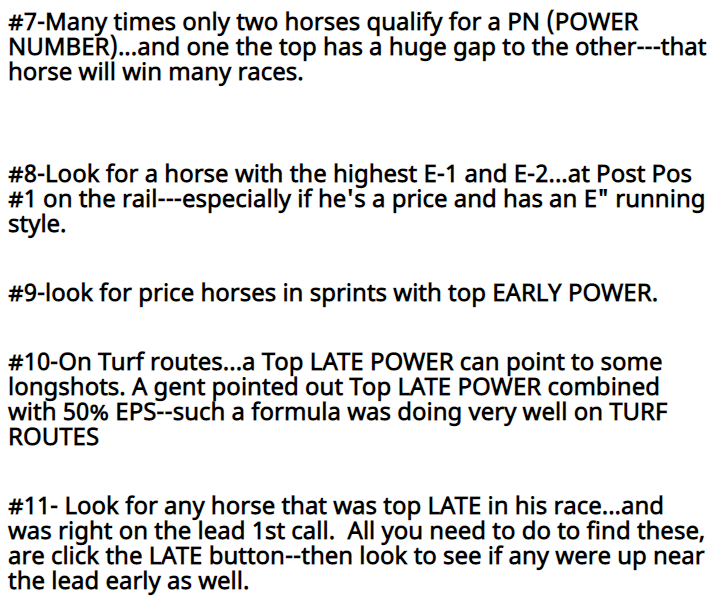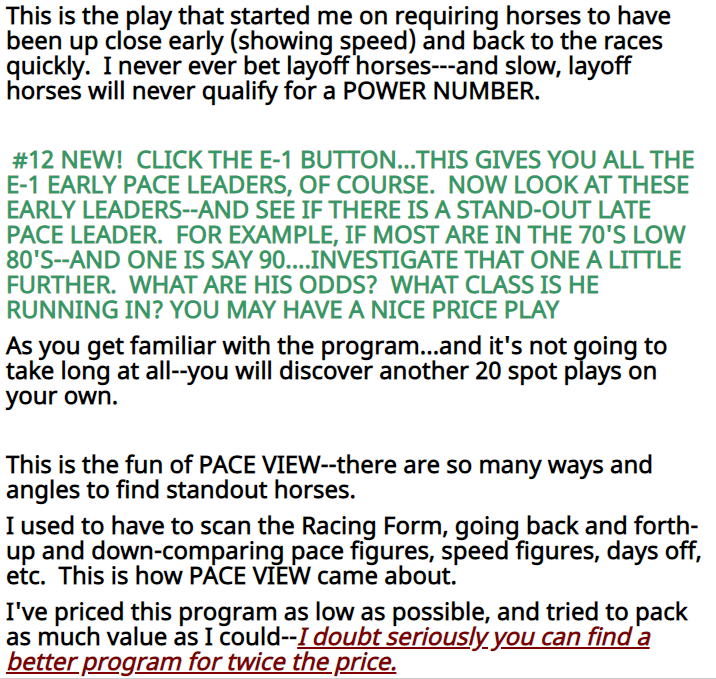 THERE ARE NO EXTRA INSTRUCTIONS NECESSARY FOR BEST-FIVE OR PONYPICKER...AS THERE IS NO HANDICAPPING INVOLVED.
EXOTIC BETS! PROGRAM WILL HAVE MORE INSTRUCTIONS -- IN ADDITION TO WHAT'S ALREADY IN THE SALES AREA.
*please read our terms--believe it or not--some folks download our programs, and once it's on their computer they immediately demand a refund. For this reason only, we had to stop offering refunds. I have given free upgrades, replaced lost programs free of charge (usually due to computer crashes)--and generally tried to be as helpful and friendly as possible. I sincerely hope you understand this...any problems at all--call me and we'll surely work it out. --Thank you so much-
-Greg Banner aka NORCALGREG - PACE-VIEW HANDICAPPING
**WINNING WITH PLATINUM**
YOU CAN GET AN IDEA FROM THESE EXAMPLES WHAT TO LOOK FOR USING PLATINUM. WHAT YOU WANT IS TO FIND HORSES THAT ARE DOMINANT--YOU MAY HAVE TO STUDY EACH HORSE. BELIEVE ME, IT WILL GET EASIER.
I LIKE TO GO DOWN THE COLUMNS, AND CIRCLE THE TOP (OR NEAR TOP) HORSES. WITH SOME PRACTICE THIS WILL NOT TAKE LONG. YOU MAY QUICKLY DECIDE TO PASS THIS RACE--ESPECIALLY WHEN YOU CAN SEE DIFFERENT HORSES TOP THE COLUMNS.
PASS ANY HORSE WITH NO POWER NUMBER...THE MOST IMPORTANT COLUMNS ARE SPEED BLAST, EARLY POWER, LATE POWER, SPEED AND TRAINER/JOCKEY%. WITH STUDY, YOU'LL FIGURE THIS OUT. THIS PROGRAM IS DESIGNED TO HELP YOU HANDICAP, NOT MAKE PICKS FOR YOU. IT DOESN'T HURT TO PRINT THESE OUT--OR KEEP RECORDS OF DISTANCES, TRACKS, AND WINNING COLUMNS.
GOOD LUCK! --NCG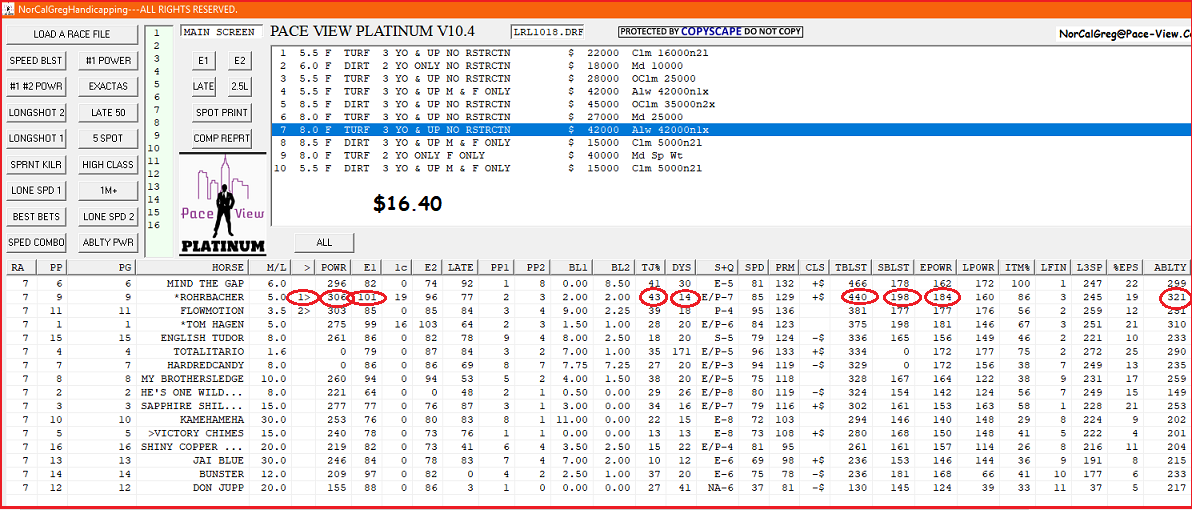 ---